WHAT WE OFFER
MEETINGS IN COLOMBIA
No matter if you are only participating in meetings or if you would like to organize meetings yourself. We make sure you will get to your meetings safely and on time. Especially if you are participating in meetings away from the big urban centers, the logistics can be tricky. Ground transportation has an average speed of 40 Km/h (25mph) as Colombia is packed with mountains. We might even fly you to your destination by charter plane or helicopter.
If you need meetings or conference rooms with the newest technology, videoconference capabilities, and catering service, we will be more than happy to organize everything for you.
INCENTIVE TRAVEL IN COLOMBIA
Would you like to reward your best salesman or managers for their great contribution? Would you like them to charge their batteries and free their mind for great performance in the future? Would you and your management team like to have a team-building event like never before?
Colombia offers many different options to achieve those goals. From a high luxury destination like Cartagena to culturally rich Bogota to deserts, mountains, the Amazon jungle, pure nature on the Pacific coast, volcanoes, cowboy land, coffee plantations or indigenous tribes, it will be more difficult to name something we can't offer. We offer customized experiences according to your group's interests and motivations.
CONFERENCES IN COLOMBIA
Would you like to organize a conference or convention in a Colombia city? We can give you exact advice on what destination would suit best for your needs. From the concept over the right venues, budgeting, and execution, we will take care that your event will be a great success. Our experience in the national tourism industry and our partnership with the best event venues in Colombia make us the best option for you.
EXHIBITIONS IN COLOMBIA
Would you like to participate in a trade fair in Colombia or organize a trade show yourself? Colombia was maybe not on your radar but it should. In cities like Bogota, Cartagena, Medellin, and Cali you can find an excellent infrastructure for all your needs. Not only are there convention centers but also suitable hotels. Further, you don't need to worry about participants getting bored beside the exhibitions, as Colombia is a vibrant country with plenty of leisure activities for every taste. Additionally, Colombia might be a very price competitive alternative.
CORPORATE SERVICES IN COLOMBIA
We will organize everything you need for your event on Colombian territory. Before the trip, we will discuss the details of your needs and offer you options for all the required services. This includes accommodation, transportation, guidance, food, plans for travel companions, leisure and security, among others.
Upon arrival in Colombia, we will pick you up from the airport and make sure all services are in place so that you can concentrate on your business.
Every detail that you can think of, we've got it covered.
DESTINATIONS
Explore the top MICE destinations in Colombia to discover what these incredible cities have to offer. From luxury hotels to cutting-edge convention centers and amazing cultural and natural experiences, Colombia is the ideal destination for your MICE travel.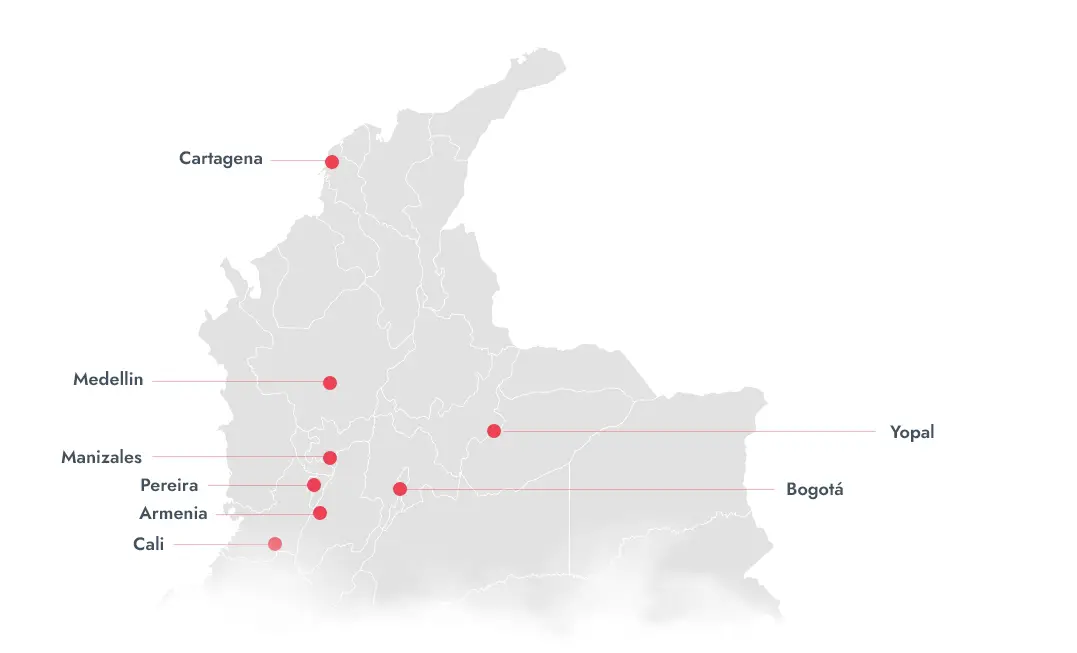 OUR BLOG
On our blog, you will find useful information about business travel and advice for planning a business trip to Colombia.